Youth Opera International leads elementary-age children on a practical, artistic adventure down what might otherwise be a rather intimidating road that leads to the world of Opera!

At road's end, children discover not only the magic
of performing, but also a new found appreciation
for the theatre arts -- props, set, costumes, make-up. Full Story


Lisa Sanden, Countryside Montessori
Opera brings to the school what no other event does. Sanford and Judy Jones. Their combined talents in music and dance give the children experience with theatrical professionals who are also delightful with children.

They are demanding, hard working, loving and generous with their time and talents. Each opera is a total cultural event, giving the children opportunities to learn about the history, fables, music and dance of another place and time.

Many children come away from opera with a rejuvenated interest in the study of voice, dance or instruments, and all develop grace and poise in front of an audience. The opera is a highlight of our year and these productions are remembered by both adults and children for many years thereafter.


A Recent Graduate
The operas that Mr. Jones helped us create always meant a lot to me. I learned things from him that I'm still using now in other performances -- things like being confident in front of a crowd of people, and how to work with others to pull it all off.

I still remember how he would make learning a new song or dance interesting and fun by telling stories that related to what we were doing. All of these things, and more, made working in the operas with Mr. Jones a great experience.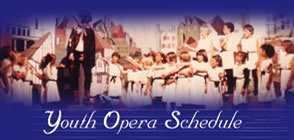 Licensing of Children's Opera Performances
We are pleased to announce that our operas composed for children are available for use on a licensing basis. Montessori Elementary schools throughout the U.S. and abroad have performed our operas for 25 years, four of which are currently available for production. We provide you and your staff with the musical score, guidelines for casting, props and set design, a DVD of the opera performed by children, and press release drafts. The particular opera chosen would depend on the age range and cast size as some opera productions are on a larger scale than others. We are available to provide support via telephone and e-mail throughout the preparatory period.
Please contact us if you have any questions or would like to explore the idea of performing an opera on a licensing basis. We will be happy to send you a brochure, a DVD and helpful instructions for the Production Manager which detail how the children's operas are rehearsed, staged and performed and logistics involved for students, teachers and parent volunteers.
The fee is $1,000 per performance: listed are the children's operas available for production:
The Burning Rice Fields
Harlequin
Pearl
Persephone
Sincerely,
Sanford Jones , Co-Director and Composer
Judy Jones , Co-Director and Choreographer